7.1 stupnov richterovej stupnice znicilo 2 zo 7 hlavnych transkontinentalnych pripojeni pri taiwane
Citácia:
Quake Damages Undersea Cables, Disrupting Major Internet Services in Asia Associated Press

TAIPEI, Taiwan - A strong 7.1 earthquake off Taiwan's southern coast damaged undersea cables, cutting off phone and Internet service Wednesday to China, Malaysia, Singapore, Philippines, Thailand, South Korea, Japan, South-East Asia, Europe and the US, affecting millions of internet and telephone users across Asia on Wednesday, companies said.

Repairing the cables could take three weeks, said Lin Jen-hung, vice general manager of Chunghwa Telecom Co., Taiwan's largest phone company.

The earthquake jolted Taiwan late Tuesday, prompting a tsunami alert on the second anniversary of the Dec. 26, 2004, waves and quake that killed 230,000 in south Asia.

The quake damaged two of the seven undersea cables near Taiwan used by several countries to route calls and Internet traffic, Chunghwa said. Crews fixing the cables would have to pull them up and transfer them to a ship for repair, the company said.

The damage to the two lines, located in the south, cut off 50 percent to 60 percent of Chunghwa's overall telephone capacity, the company said. Most severely affected were connections to China, Japan and Southeast Asian countries, it said.

The company also lost 60 percent of its telephone service to the U.S. Chunghwa said 98 percent of Taiwan's communications capacity with Malaysia, Singapore, Thailand and Hong Kong was disrupted.

CCTV, the state-run television network, said China Telecom Corp., China's biggest phone company, was contacting counterparts in the U.S. and Europe about using satellites to make up for the shortfall.

KDDI Corp., Japan's major carrier for international calls, said Thursday that its fixed-line telephone service was affected.

KDDI spokesman Haruhiko Maeda said customers were having trouble making calls to India and the Middle East, which are usually routed through cables near Taiwan. Maeda said the company was rerouting calls to go through the U.S. and Europe; the company did not know how long it will take to repair the cables.

Japan's Ministry of Internal Affairs and Communications said that international roaming service provided by Japan's major three telecommunications companies NTT DoCoMO, KDDI, and Softbank, has been affected. Ministry official Akira Yamanaka said that some customers were unable to make calls using their cell phones in countries including Taiwan.

Len pre ukazky aky zmatok to vyvolalo, taketo maju pingy teraz v azii
US was 922ms, Hong Kong 45ms, Japan 542ms, Taiwan 304ms, and Korea 1,000ms.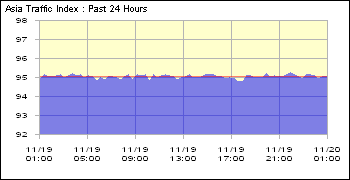 http://news.google.com.au/news?q=intern ... a=N&tab=wn